Comedy doctor is dinner speaker at National Conference
GP, dermatologist and stand-up comedian, Dr Ahmed Kazmi, is the after dinner speaker at the AMA's National Conference Gala Dinner event in Sydney later this month.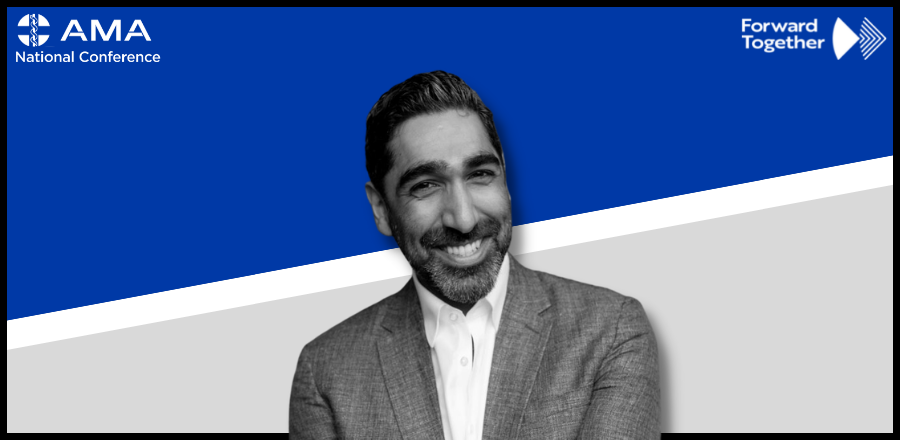 The gala dinner at Darling Island's Doltone House is the main social event of the AMA's National Conference running from 29-31 July at Sydney's Darling Harbour. The Doctor in Training of the Year Award will also be presented at the dinner.
Dr Kazmi, who divides his time between London and Perth, moonlights as a cabaret artist and comedian, but he is also a mental health activist, who's serious about doctor wellbeing and preventing burnout. He's been invited to bring his global and local perspectives to the conference program as well.
Meanwhile, for the main conference Emergency Medicine expert, Dr Clare Skinner, President of the Australasian College for Emergency Medicine has been confirmed as a speaker. She'll be part of a session on the pressures on public hospital doctors, along with former Tasmanian Health Minister and Premier, The Hon. Lara Giddings, currently CEO of AMA Tasmania.
For those working in the private health system, our session on the future of private medicine in Australia will be of interest with NIB CEO Mark Fitzgibbon and Calvary Healthcare CEO, Martin Bowles providing views from the private hospital system.
For GPs we have a session on the 10-year primary healthcare plan. With Voluntary Patient Enrolment yet to be fully defined in the plan, you can make your feelings known to Dr Walid Jammal, Co-chair of the Primary Health Reform Steering Committee.
Newly confirmed speaker Andrew McKellar, CEO of the Australian Chamber of Commerce and Industry will take part in our session on how the practice of medicine evolved through the pandemic. He joins CMO, Professor Paul Kelly, and Professor Raina MacIntyre among others for the session.
Doctors have been at the frontline of climate emergencies like flooding and bushfires in recent times, so our session on climate change will pique interest. Dr Georgia Behrens, a DiT with first-hand experience of United Nations climate change negotiations is also the Co-chair of the AMA's Global Health Special Interest Group and Director on the Board for Doctors for the Environment Australia. She is joined by Dr Arnagretta Hunter, Cardiologist and ANU Extreme Weather Event Researcher and Dr Eugenie Kayak, also from Doctors for the Environment.
There's only four weeks left before this exciting event – a chance to reconnect and celebrate the medical profession. Register by clicking here.
See the full program here.
Click the image below to see the promo video.