Special Family Doctor Week Edition of Australian Medicine out now
18 Jul 2019
The latest issue of the AMA's member magazine, Australian Medicine, is out now. The focus of the issue is Family Doctor Week, which is 21 to 27 July this year. As well as AMA President Dr Tony Bartone's messages on the importance of general practice to the Australian health system, there are profiles of family doctors from around Australia.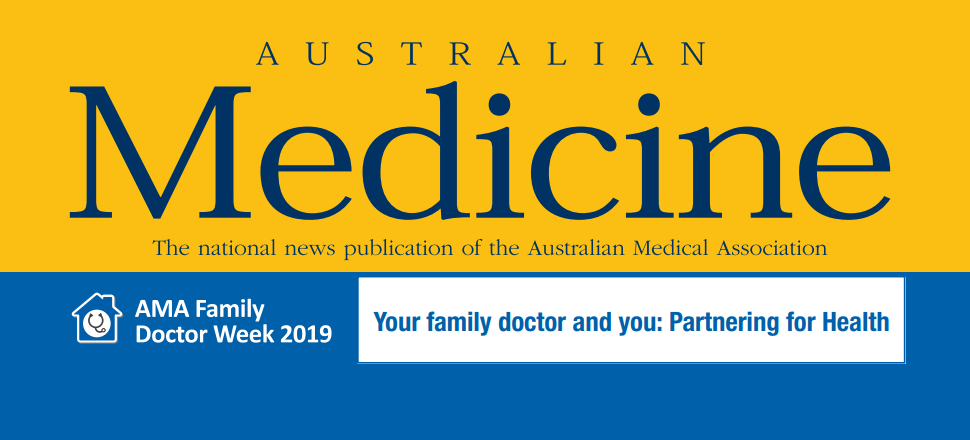 The profiles include Dr Ines Rio from Melbourne, who discusses the joys and challenges of providing comprehensive general practice to her community, Dr John Saul from Tasmania, who talks about the personal fulfillment he gets out of his work, and Clare Vincent, a medical student from Ballarat who explains why she wants to be a family doctor.
Elsewhere, Dr Richard Kidd, Chair of the AMA Council of General Practice, discusses the importance of recognising the value of GPs every year with Family Doctor Week in his monthly column.
"Each year AMA Family Doctor Week takes the opportunity to recognise the dedication and hard work of GPs right across the country in caring for their patients and delivering quality health care to communities," Dr Kidd writes.
"The theme for this year's Family Doctor Week is Your family doctor and you: partnering for health. This theme recognises the partnership between practitioner and patient, between members of a patient's healthcare team, between GP supervisor and GP registrar, and the one that most needs to be enhanced, between Government and general practice."
The July issue also contains the regular columns, including rural health, doctors in training and medical workforce. There are also updates from Parliament House, the latest in research, and cultural critique.
Read the latest issue of Australian Medicine here.
For more on Family Doctor Week