Medical Journal of Australia – Transitioning to new information technologies
24 Apr 2014
The latest issue of Medical Journal of Australia this week looks at the benefits and drawbacks of the wide array of rapidly advancing information technologies now available to doctors and patients, including: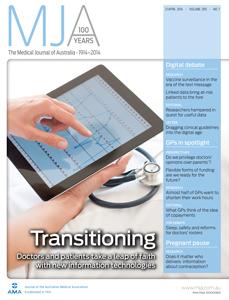 managing information overload;

the use of automated text messages to monitor adverse events following immunisation in general practice;

linking data to improve health outcomes; and

the need for a national standard for developing online guidelines.
Also in this issue Christopher Del Mar gives his take on the proposed GP co-payment. There are also articles on:
the future of general practice funding;
internet slimming, thyrotoxicosis and the liver;
changes in alcohol consumption in pregnant Australian women;
a lack of consensus about venous thromboembolism risk with newer contraceptive pills;
emergency contraception management; and
an innovative rural intern program delivering high quality training and diverse experience.