Medical degrees being priced out of reach
21 Nov 2014
AMA President, A/Prof Brian Owler, in a speech last week to the Australian Financial Review Higher Education Forum expressed the AMA's concerns regarding the impact of the Government's decision to deregulate university fees.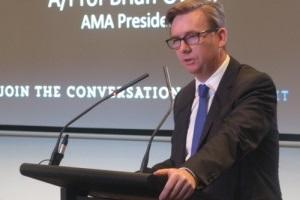 He explained how university fee deregulation will mean that medical graduates will be burdened with large debts as they enter the medical workforce as interns and that conservative estimates for the cost to students of a medical education are around $250,000.
A/Prof Owler also highlighted that high fee levels and the prospects of significant debt deter people from lower socio-economic backgrounds from entering university. He added that rural medical students already incur substantive extra costs in accommodation and travel, and to place further financial barriers to these students would result in many finding the costs prohibitive. Aboriginal and Torres Strait Islander students may well be hardest hit by such measures.
"We want the best and the brightest, not the wealthiest. We want the medical profession to have the same diversity as the communities it serves," A/Prof Owler said.
He explained that the level of student debt will also be a factor in career choice, driving people towards better remunerated areas of practice and away from less well paid specialties like general practice.
A/Prof Owler warned of the potential for medical graduates to be deterred from undertaking PhD programs, saying that, for all the talk of the Government's establishment of a Medical Research Future Fund, it is disappointing that these implications have not been considered.