Australian Medicine: The health of general practice
6 Mar 2014
In Australian Medicine this week AMA Vice President, Professor Geoffrey Dobb, discusses the financial sustainability of general practice under current funding arrangements.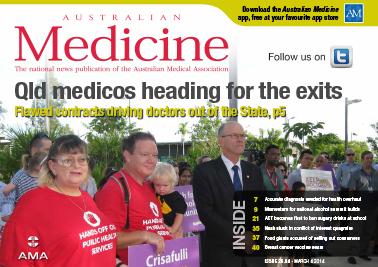 Also covered in this edition is the development of a revolutionary breast cancer vaccine that may also be useful in treating and preventing pancreatic, ovarian, colon and lung cancer; the Queensland Health contracts dispute; the latest developments in the debate over health funding; the need to train more GPs; the commencement of New Zealand pharmacists administering vaccines for whooping cough and meningococcal disease; calls to urgently revise the flawed remoteness classification system for doctor incentives; and much more health news.
Australian Medicine can be viewed online or in its new, easy-to-use Realview format. It can also be viewed via the Australian Medicine app, available from your favourite app store.