National Alcohol Summit
13 Oct 2014
Event Details
Join us for this important forum.
Register now! Email president@ama.com.au or phone the AMA on 02 6270 5460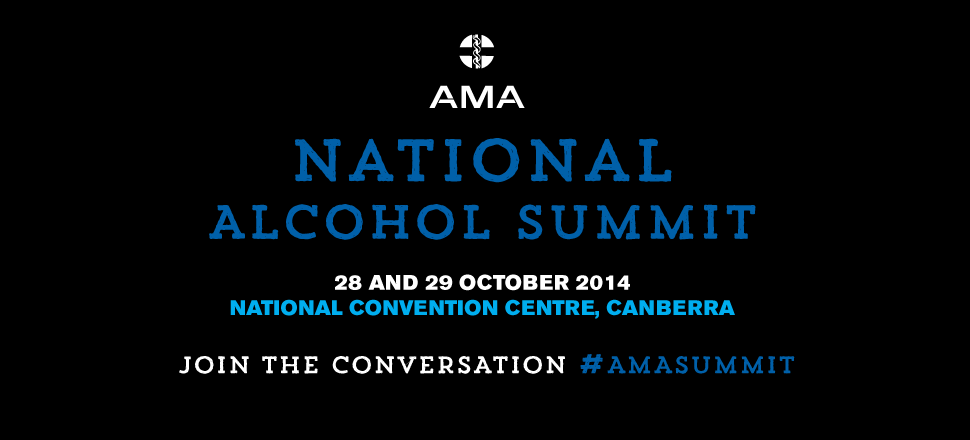 The AMA's National Alcohol Summit will look at the impact of excessive alcohol use across several different domains including alcohol-related violence and the social costs of alcohol; culture, advertising and sport; the harmful use of alcohol in Indigenous communities; and Foetal Alcohol Spectrum Disorder.
The Summit will bring together representatives from all tiers of government, community leaders, medical and health experts, police, families of victims, and other stakeholders to develop practical measures and enduring solutions.
The AMA has been a consistent public voice raising awareness of alcohol-related harms and the need for a comprehensive national response. As doctors, we are often at the frontline in dealing with the effects of drinking. The devastating effects of excess alcohol use are comprehensive, and their prevalence is far reaching. The AMA believes that the solutions must be equally comprehensive and far reaching.
The National Alcohol Summit will culminate in a recommended plan of action for the Australian Government to implement real and tangible solutions.
Sessions
AMA National Summit on Alcohol - Session 1 (Violence and the social costs of alcohol)
Speakers:
Mr Ralph Kelly, Thomas Kelly Foundation (Download presentation, pptx 94.3MB)
Mr Vince Kelly, President, Police Federation of Australia
Dr Diana Egerton-Warburton, Director of EM Research, Monash Medical Centre
Chair, Australasian College of Emergency Medicine Public Health Committee (Download presentation, pptx 1.3MB)
Ms Kate O'Connor, Manager City Business and Safety, City of Sydney (Download presentation, pptx 525KB)
Mr Michael Thorn, CEO, Foundation for Alcohol Research and Education (Download presentation, pptx 963KB)
AMA National Summit on Alcohol - Session 2 (Domestic Violence)
AMA National Summit on Alcohol - Session 3 (Culture, sport and alcohol)
Speakers:
AMA National Summit on Alcohol - Session 4 (Foetal Alcohol Spectrum Disorder)
Speakers:
Prof Elizabeth Elliott AM, Paediatrics and Child Health, Sydney Medical School, The University of Sydney
NHMRC Practitioner Fellow
Paediatrics and Child Health, Children's Hospital, Westmead
Ms Sue Miers AM, Chairperson, National Organisation for Fetal Alcohol Spectrum Disorder (Download presentation, pptx 1.27MB)
Mr Graham Perrett MP, Shadow Parliamentary Secretary to the Shadow Attorney General
Dr Richard Kidd, Deputy Chair, AMA Council of General Practice
AMA Federal Councillor (Download presentation, pptx 1.1MB)
AMA National Summit on Alcohol - Session 5 (Foetal Alcohol Spectrum Disorder - cont.) (Live)
Speaker:
AMA National Summit on Alcohol - Session 6 (Alcohol harm and Aboriginal & Torres Strait Islander people)
Speakers:
Mr Mick Gooda, Aboriginal and Torres Strait Islander Social Justice Commissioner
Co-Chair of Close the Gap Steering Committee
Dr Pat Anderson, Chair Lowitja Institute
A/Prof Ted Wilkes AO, Aboriginal Research Programs, National Drug Research Institute
Curtin University (Download presentation, pptx 174.71 KB)
Dr John Boffa, Chief Medical Officer, Central Australian Aboriginal Congress (CAAC)
A/Prof National Drug Research Institute, Curtin University
Speaking on behalf of the Peoples Alcohol Action Coalition
The event hashtag is #AMAsummit
Like the AMA on facebook or follow these AMA twitter accounts for full analysis of the event:
Follow the AMA Media on Twitter: @ama_media
Follow the AMA President on Twitter: @amapresident
Follow the AMA Vice President on Twitter @SParnis
Follow Australian Medicine on Twitter: @amaausmed